The Conflict Competence Model
Part 1 of the UCSF Office of the Ombuds Video Training Series
Jon Lee, MA, JD, CO-OP
October 2020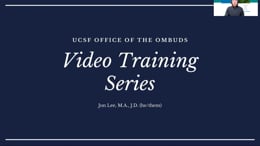 The Johari Window
Part 2 of the UCSF Office of the Ombuds Video Training Series
Jon Lee, MA, JD, CO-OP
October 2021

TED Talks
Conflict Is a Place of Possibility
Dana Caspersen, TED Talks
July 2015
Our approach to conflict is not a fixed part of our character, it is learned behavior that we can change. Dana Caspersen, conflict specialist, award-winning performer and author of "Changing the Conversation: The 17 Principles of Conflict Resolution" offers two simple, transformative actions that we can choose, which can fundamentally change the conflict conversations in our lives.

Dare to Disagree
Margaret Heffernan, TED Talks
June 2012
Most people instinctively avoid conflict, but as Margaret Heffernan shows us, good disagreement is central to progress. She illustrates (sometimes counterintuitively) how the best partners aren't echo chambers — and how great research teams, relationships and businesses allow people to deeply disagree.
Articles: Managing Conflict
Clean Up Corrosive Interpersonal Dynamics on Your Team with This System
First Round Review
5 Ways Successful People Handle Conflict at Work
Dr. Travis Bradberry (author)/ Joseph Grenny (co-author), World Economic Forum
Dealing With Conflict in the Workplace
Tom Fox, The Washington Post, May 2015
Dear Val - How Do I Cope with Conflict at Work?
Val Nelson, Quiet Leadership Institute
A Mental Trick to Help with Challenging Conversations
Liane Davey, Harvard Business Review, December 2015
What to Do If a Conversation Is Turning Loud and Aggressive
Joseph Grenny, Harvard Business Review, March 2016
New Managers: 5 Ways Stop Negative Office Gossip
Forbes

10 Highly Effective Ways to Silence Workplace Gossip
Huffington Post

How Good Managers Deal with Gossip in the Workplace
Sandler Training

Rumors in the Workplace: Managing and Preventing Them
MindTools